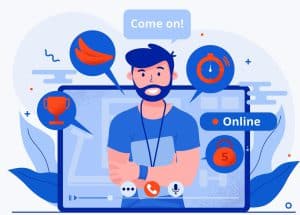 Live Chat Support Outsourcing: Backend Communications is a leading provider of customer service solutions, including live chat support. Our team of highly skilled professionals is available to provide 24/7 web chat services for your website, ensuring that your customers can always get the help they need, no matter when they visit your site.
Our live chat support team is trained to handle a wide range of customer inquiries, including technical issues, billing questions, and product information requests. They are equipped with the knowledge and tools to resolve customer issues quickly and efficiently, helping to improve customer satisfaction and retention.
In addition to providing top-notch customer service, our live chat support team can also help to increase conversions on your website. By providing real-time assistance to potential customers, we can help to guide them through the purchasing process and answer any questions or concerns they may have. This can help to increase the likelihood that they will make a purchase from your site.
Overall, Backend Communications can provide you with a highly skilled live chat support team that can help to improve the customer experience on your website. With our round-the-clock availability and expertise, we can help to ensure that your customers receive the help they need when they need it.
In addition to our live chat support services
Backend Communications also offers a range of other customer service solutions, including email support, phone support, and social media support. This allows us to provide a comprehensive customer service experience for your business, no matter what channel your customers prefer to use.
Our team is also fully trained in customer service best practices, ensuring that they are able to provide a high level of service to every customer who contacts us. We are committed to maintaining a high level of professionalism and empathy in all of our interactions, and we work hard to ensure that every customer feels heard and valued.
If you're looking to improve your customer service offerings, Backend Communications is here to help. Contact us today to learn more about how our live chat support team can help your business.
Also Read: Order Taking Services
chat
live